What is arbitration and how can it be resolved?
When the client and the professional cannot reach an agreement regarding the fulfillment of the project objectives, either of them can initiate an arbitration process, in this procedure Workana is requested to act as arbitrator and decide how the project will be closed.
The customer

can initiate this cancellation process through the

Self-mediation.
And the freelancer

can initiate this cancellation process through the arbitration tool.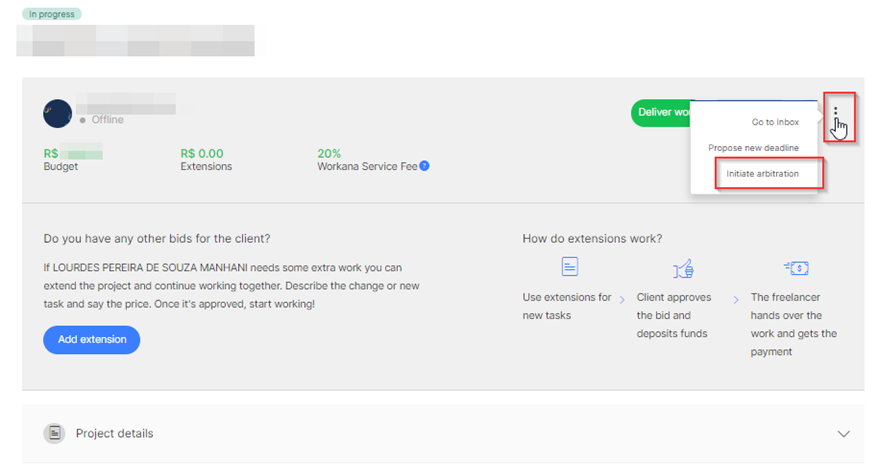 In arbitration, we act as arbitrators and decide how the project will be completed and also what percentage of the payment will be given to the professional and what part will be returned to the client. And for that we analyze:
Everything requested (scope of the project)

what was delivered within the project (deliveries made on the platform)

all messages exchanged within the project chat

the considerations sent in response to the email requesting clarification from Workana will be analyzed.
It is important to clarify that communications made outside the Workana platform cannot be used as evidence in arbitration.
Important: When the project is finalized by arbitration, both parties lose the right to evaluate each other.
In an arbitration, both the professional and the client can receive a breach that will be visible in their Workana profile. This happens when we conclude that one of the parties did not respect the terms of the project.
When a professional receives a breach, their reputation and ranking on the platform are affected, making it difficult to hire them for new projects in the future.
What are the costs of arbitration?
The arbitration will cost 10 USD.
If the person requesting arbitration does not pay the corresponding fee within a period of 96 hours, the process is canceled and the project returns to the "Working" status. If he/she requests arbitration again and does not pay the fee, he/she will receive a breach or suspension.
If the client or professional who requested the arbitration and made the payment of the arbitration fee receives 100% of the funds that are in arbitration, the fee will be fully refunded.
When a project is finalized through mediation or arbitration, the 4.5% cost fee for using Workana will not be refunded.
Can I appeal or request a review of the arbitration award?
Workana's decision in arbitration cannot be appealed.
This is because we make it possible for the parties to resolve through mediation without the intervention of Workana, however, when we are asked to make a decision as arbitrators based on the evidence, we analyze, decide and execute the closure of the project, and a review or appeal. of the decision is not possible arbitration.
IMPORTANT:
Projects whose value is up to USD 30 will be automatically arbitrated by the platform, resolving in the percentage of 50% for the client and 50% for the freelancer.
Inappropriate use of the arbitration request feature on projects under USD 30 - if there are no deliverables or fake deliverables - constitutes a violation of our Terms of Use and Policies, and may result in a breach or termination of an account.
In which cases is it possible to request arbitration?
See details in our Cancellation policies
For more information, visit our User Agreement