What are talent lists?
They are groups of freelancers that each client can customize according to their needs.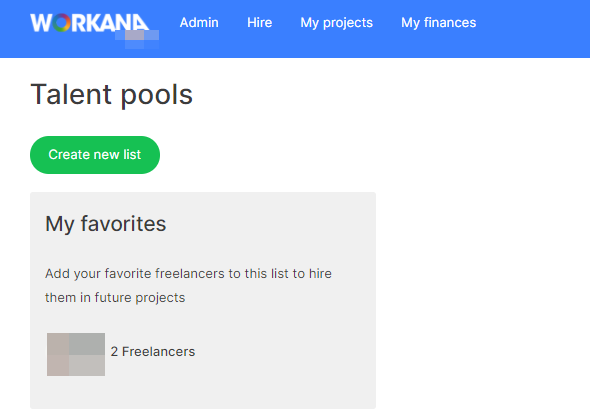 What are they for?
You will be able to quickly access a group of professionals with similar characteristics, to invite them to your projects with a single click :)
How many talent lists can I create, and how many freelancers can I add to each list?
If you are a client with a free plan , you can have your Favorites list (which is the "talent list" that already exists in your profile), and an additional talent list with 25 freelancers.
If you have a Client Plan, you can create unlimited talent lists, and add 100 freelancers to each :)
How to create a list of talent?
1) You must go to https://www.workana.com/talent_pools , there you will find your list of Favorites. With the button "Create a new list" you will add a list of talent; You can put the name and description you want.
2) Once the list is created, it's time to add freelancers to it! Too easy :)
By clicking on the "Add freelancers" button we will take you to the Workana search engine. When you find a freelancer to add to your list, or to "My Favorites", you just have to click on the icon that appears to the right of their name, and your lists will open there.
Mark which list or lists you want to incorporate the freelancer into, and it's already added!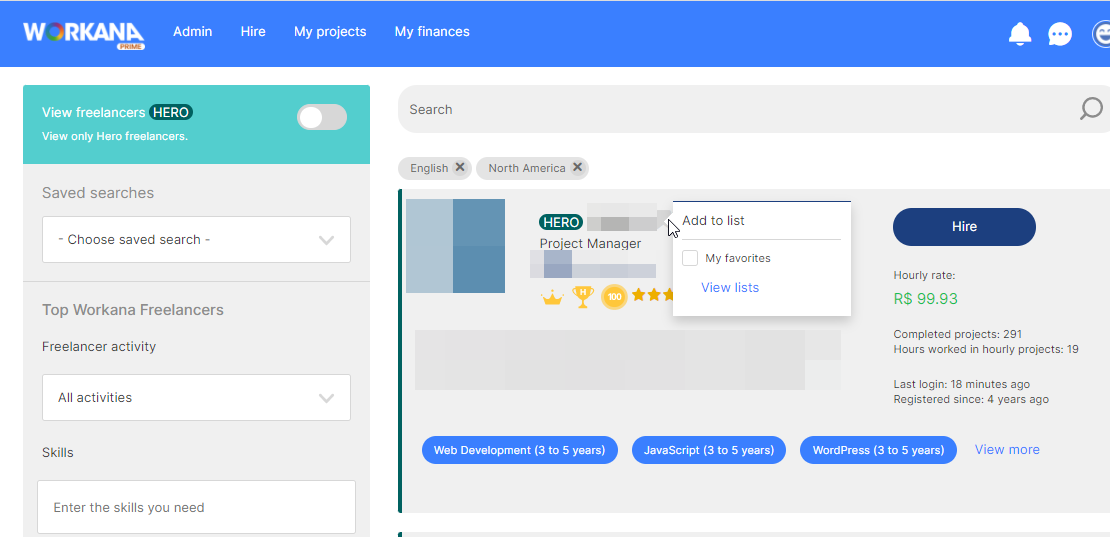 You can also add more freelancers at another time:
- in "My Favorites" you can do it from the search engine,
- and in your Talent Lists, you can add freelancers from the search engine, and also with the "Add freelancers" button, which you will find in the three dots on the right side of your list.

What information is stored in the lists?
By clicking on the name of the list, you will access the details of the freelancers you have incorporated:
- Name
- Category and Level, number of completed projects
- Price per hour
- Last project together (if you already hired )


Can I remove freelancers from my talent lists?
Yes, accessing the details of the freelancers, which we mentioned in the previous point. If you click on the icon, you will be able to uncheck the freelancer and delete it from your list.

How do I invite freelancers from a list to apply to my project?
* You must go to your project page, and in the "Invite professionals" section, you will see your talent lists

* You can also create an exclusive project for your list! In this way, each of them will automatically receive an invitation.
IMPORTANT: depending on the plan you have as a client, you can invite a different number of professionals from your lists. You can see the detail here.