At Workana, we offer different means through which you can withdraw your income from a contract. Here we tell you what they are and the steps to follow to correctly configure your withdrawal options🙂
The current methods are: PayPal, Payoneer Card and Payoneer Transfer.
You can view the options by going to My Finances > Configure Withdrawal Options. The methods active in your account will depend on your country of residence.
The commissions that each system withholds vary in each case:
PayPal: usually withholds 2% of the total amount paid by the client, plus a fixed fee depending on the exchange rate received. Paypal has a transfer period of up to 24 hours. For more information visit the PayPal site.
Payoneer Card: the commission may vary depending on the type of program chosen and a number of factors. Payoneer charges commission for activation, monthly card maintenance and ATM withdrawals. The amount to be withdrawn by this means must be more than 20 USD. For detailed information log in to your Payoneer account or access the Frequently Asked Questions. More information at: Payoneer Costs with Debit Card
Payoneer Transfer: This method has a transfer period of up to 3 business days. See full details at: Withdrawal with Payoneer - Bank Transfer
Beyond the commissions that apply for each method, at Workana we do not add any costs when we send through any of these systems 🙂
IMPORTANT
It is necessary to visualize the currency in your profile according to the chosen withdrawal method. If you choose to withdraw via Paypal or Payoneer, your profile should be displayed in USD.
How many withdrawal means can I select?
You can select a means of withdrawal, but you have the option to change it to another means when you need it, as long as it is enabled in your country of residence.
As a recommendation, we suggest you to register in more than one method, in case there are eventual problems with any of them and you have to choose another withdrawal system.
How do I set my Withdrawal Options?
To withdraw funds through your chosen method, follow these steps:
Go to Set Withdrawal Options

Choose the withdrawal method that best suits your needs and link the withdrawal method account to your Workana account (1 and 2)
Select the minimum amount you want us to send you (If you want to receive your balance regardless of the amount you have, you don't have to select any options) (3)
Specify if you want to receive it in the middle of the month or at the beginning of the month (4)
Click on "Save changes" (5)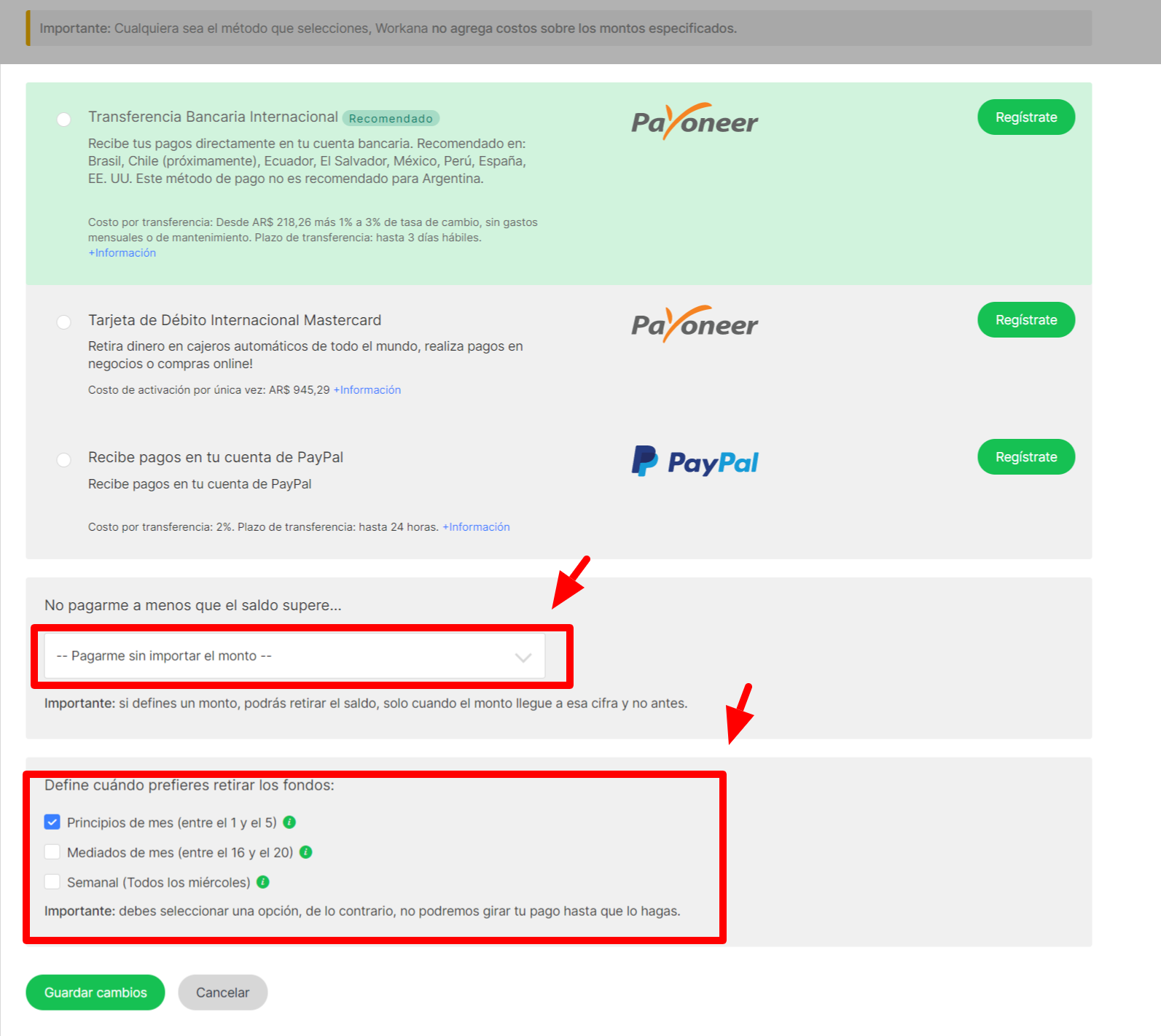 Ready! Once your withdrawal options are set correctly, no additional steps are required. Your funds will automatically be sent to the selected method and you will receive a confirmation email. 😉
--------------------------------
Related articles:
How do I withdraw/collect my payment?