It is very simple: the client pays a fixed fee and the freelancer pays a staggered commission according to the relationship between the two.
How does it work? Don't worry about it. Here we explain it in detail :)
On the one hand, the client will have to pay a "service cost" that represents a value equivalent to 4.5 % of the total.
On the other hand, the commission to be paid by the freelancer is tiered according to the relationship you have with the client. This means that when you start a relationship with a client, it will be 20%. When the client has paid more than 300 USD to the freelancer, it will be 10%, and when the value paid exceeds 3000 USD, the commission value will only be 5% :)
| | |
| --- | --- |
| Range (USD) | Commission |
| $0 to $300 | 20% |
| $301 to $3000 | 10% |
| $3000 and up | 5% |
Why does it work like that?
Because we want to foster medium and long-term relationships between clients and freelancers. Workana offers a lot of value at the beginning of a relationship between client and freelancer, and it diminishes as the link progresses. Therefore, a tiered commission has a greater justification.
But most of all, we believe that the greatest satisfaction we can offer to our clients and professionals is that of generating long-term relationships, and that this is always done through Workana. We want to be that place where clients can form virtual work teams that are key to their organizations, and where freelancers can find the best clients to work with on a long-term basis :)
Important!
You cannot refer to Workana's commission: The freelancer estimates a certain value to the client, and then Workana charges the freelancer a commission of that value. Referring to this commission is considered an invitation to disintermediation and may mean a sanction.
How are payments between client and freelancer counted?
All payments count: fixed and hourly projects, extensions, direct hire and direct payments.
When the same client paid more than 300 USD to the same freelancer, the professional starts paying 10% commission. When that barrier exceeds 3000 USD, they pay 5%. It is always calculated on the basis of the total value paid by the customer.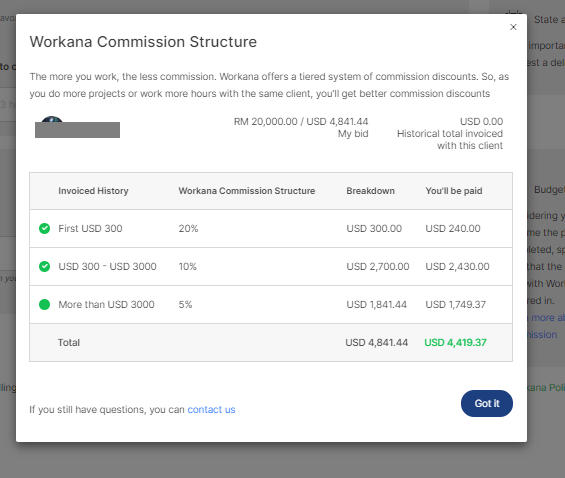 In what currency are the transactions between client and freelancer calculated?
In USD, no matter the country of the client or the freelancer. That is, every time a client releases a payment to the professional, that value is taken in USD and it's added to the transactions between client and freelancer in USD. This does not affect other aspects of the platform, only the calculation of the commission. In this entry we explain it in more detail.


* The commission may be subject to review in projects of enterprise clients. You can recognize an enterprise customer by the following image: