Benefit Plans will make your experience even simpler. With them, you can withdraw money whenever you want, promote your bids, have Premium Support, and much more. Here's how they work and what benefits you'll be able to access 🙂
What types of plans can I access?
When logging in to the platform, all our users automatically access the FREE plan. As the name implies, this plan is free of charge. The number of available weekly entries are those offered in Workana's Achievement System and you can only choose one category to display on your profile. This means that you can only make bids in the category that matches your profile and you can also take one of our certification tests, only once.)
Plus Plan: In this plan, unlike the Free plan, you can access 5 extra connects per week. It also allows you to make withdrawals twice a month (at the beginning and in the middle of the month). This plan has a monthly cost of USD 4.99.
PROFESSIONAL Plan: In this plan, you can access 15 extra weekly connects and Weekly withdrawals! Highlight three bids for free, and more. This plan has a cost per month of USD 16.90.
PREMIUM Plan: In this plan, you have access to 50 extra connects to those obtained in our Achievement System and Weekly Withdrawals :). It also gives you direct access to Workana's support team and account executives through our chat. You also have the benefit of receiving, via email and every 2 hours, the latest projects published on the platform (always according to your skills and categories selected in your profile) and you can also highlight five bids per month for free. This plan has a monthly cost of USD 24.90.

How can I access the different types of plans?
You only have to go to https://www.workana.com/plans (having logged in with your usual user) and from there click on the plan that interests you.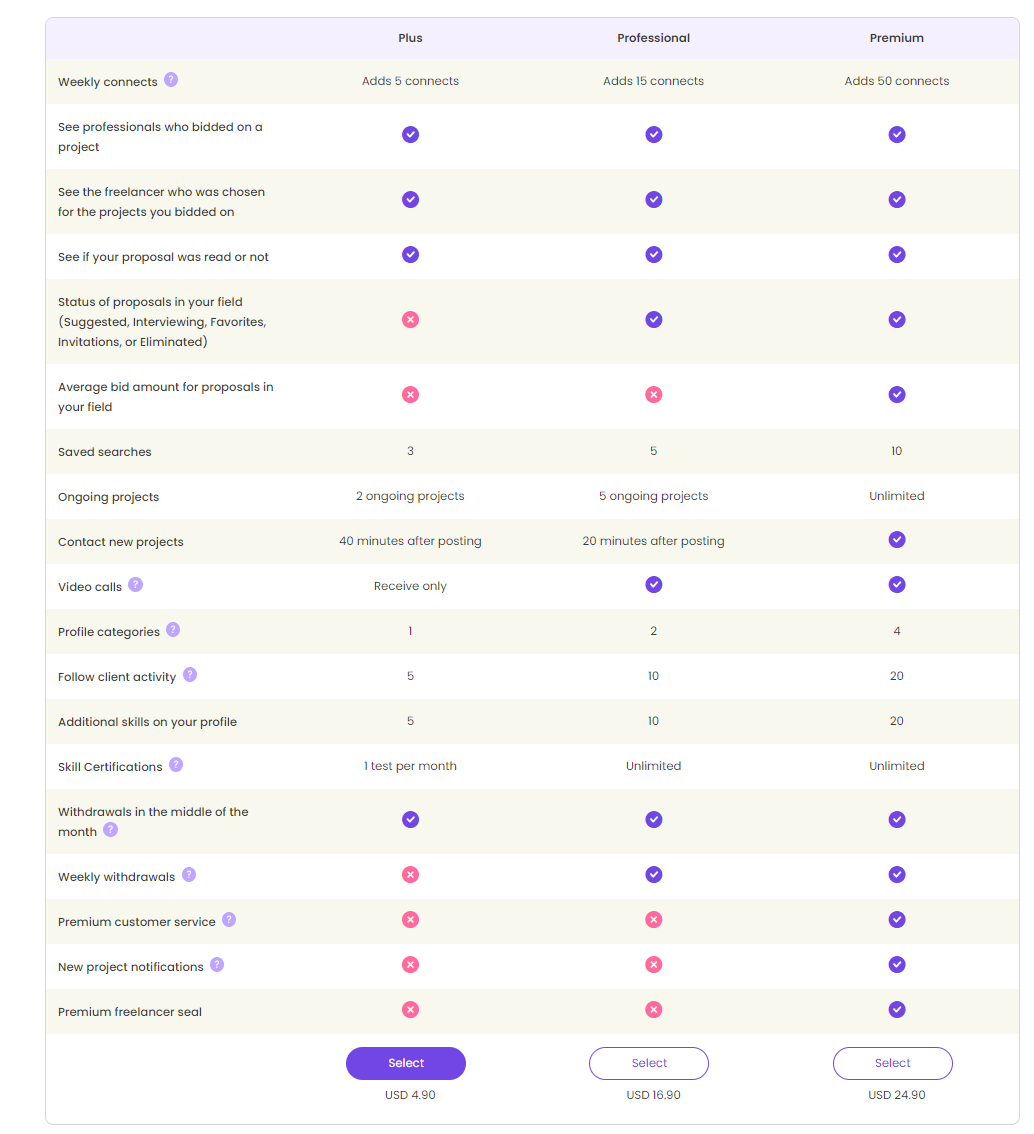 How is the plan credited?
Once you have signed up for the plan, it will remain active and will be automatically debited once a month (on the expiry date of the plan) from your profile balance or from the card you used to sign up for it.
Note: If you have contracted the plan with a credit card but have a balance in your profile, the debit will be made from there.
To maintain the plan's value in your account, you must go to "Set up withdrawal methods" and select the "Maintain balance for membership payment" option. This way, we will be able to send you your balances normally, leaving the value of the plan always available 🙂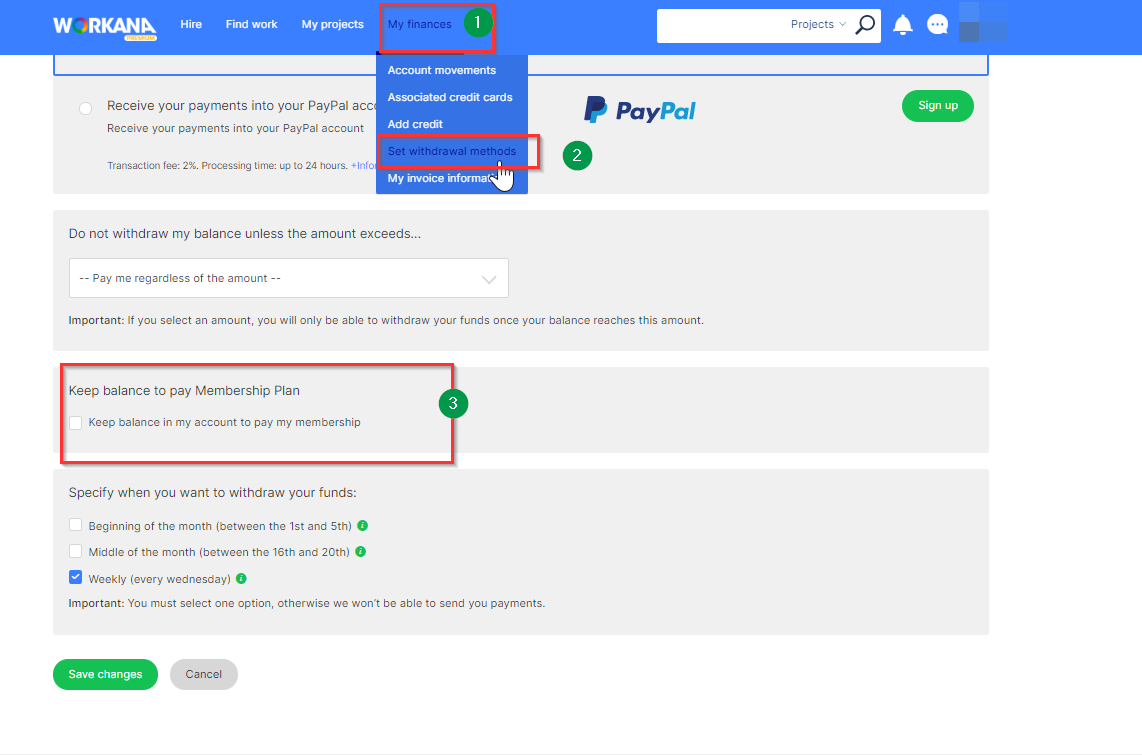 Note: What happens if I do not select the keep balance option and there is no balance in my profile for the debit?
If you do not have this option selected and there is not enough balance for the plan debit, we will send you an email with the steps to follow in order to regularize the payment. 🙂
I wan to change my plan, how can I do it?
If you want to sign up for a plan that is superior to the one you already have, you can do so at any time from your profile, paying only the difference. How can I do it?:
Go to https://www.workana.com/plans and click on the "Upload plan" button to the plan you want.
The system will then send you to the payment page so that you can pay in full for the new plan, but (and if you have made this change before the due date of your previous plan) we will refund the values corresponding to the unused days of the previous plan.
This amount will remain in "My Account Moves" and and if the freelancer prefers, you will need to ask us for a refund. 😉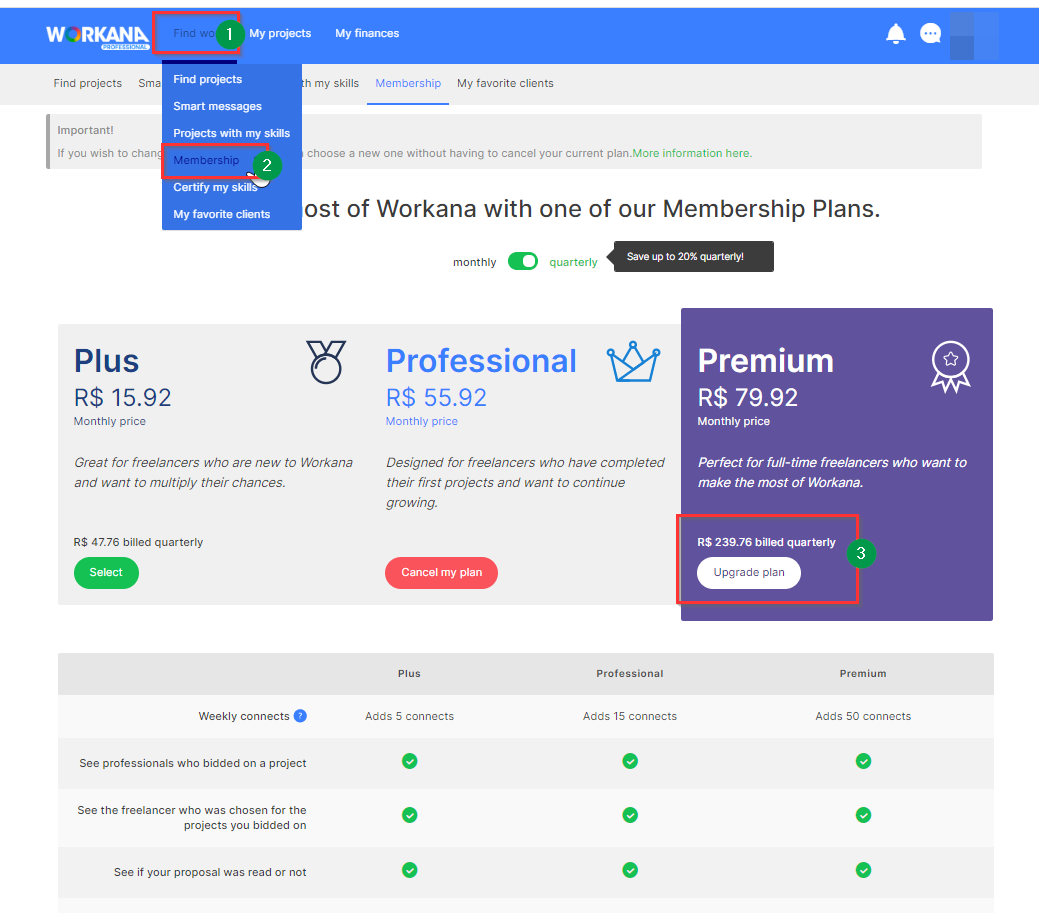 If you wish to contract a lower plan than the one you have, you can make the change from your profile at any time.
To do this, go to https://www.workana.com/plans and click on "select" in the plan you want.
In this case, we will keep the benefits of the higher plan until the expiration date of the higher plan, and then the amounts and benefits of the new plan selected will apply. 😉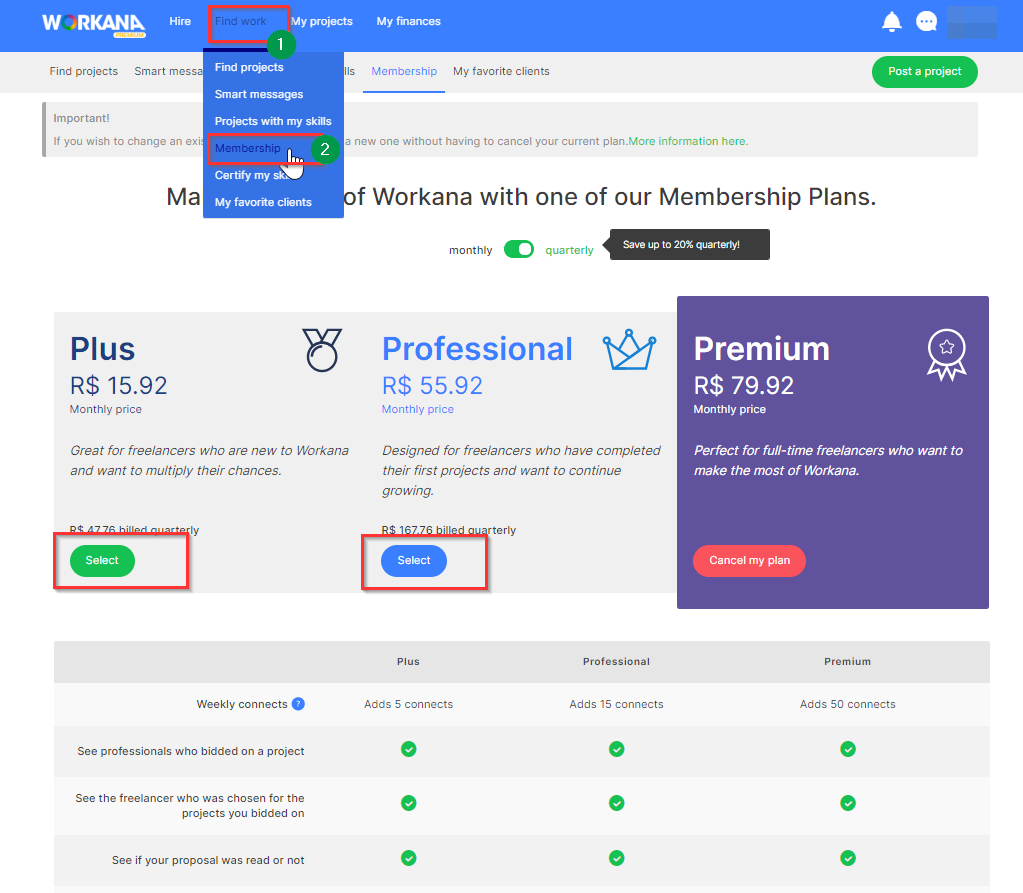 I subscribed to a plan, but I regretted, can I cancel it?
Yes, you can cancel it whenever you want, just log back in to https://www.workana.com/plans and click on the plan you want to cancel.
Once you cancel your plan, you will keep your plan benefits until their expiration date and then you will return to the free plan. 🙂